The Lion, the Witch, and the Wardrobe, a live production at Milton Theatre
February 17

-

February 19
A Milton Student Mainstage Production of C.S. Lewis's The Lion, the Witch and the Wardrobe Dramatized by Joseph Robinette.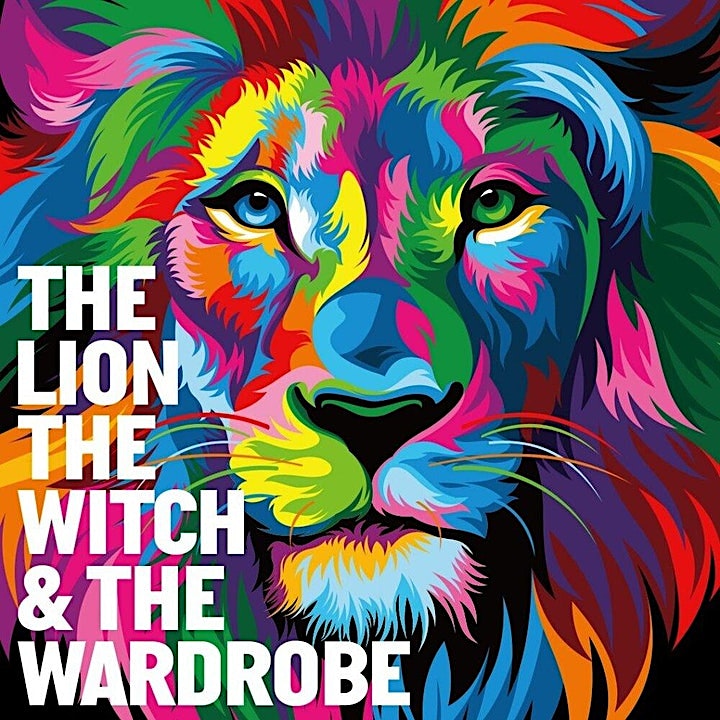 About this event
SEATING INFORMATION:
Modified seating due to balcony construction (tables temporarily not available)
Parents and children familiar with the series, or discovering it for the first time, will love this dazzling play that champions honesty, bravery, and goodness.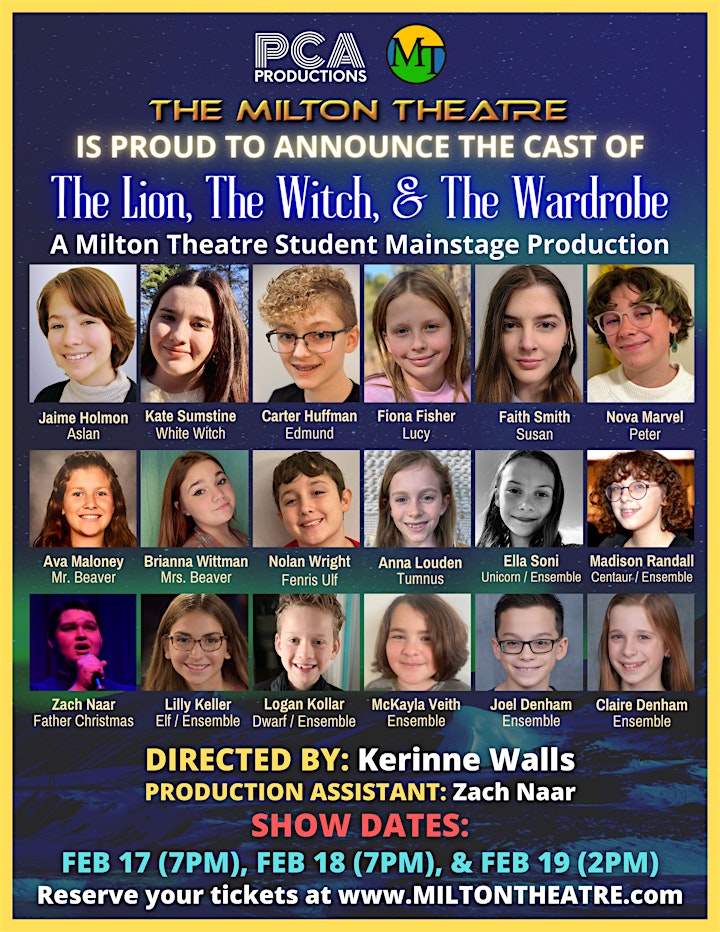 About The Lion, the Witch and the Wardrobe
This dramatization of C.S. Lewis' classic work faithfully recreates the magic and mystery of Aslan, the great lion, his struggle with the White Witch, and the adventures of four children who inadvertently wander from an old wardrobe into the exciting, never-to-be-forgotten Narnia. The intense action features chases, duels and escapes as the witch is determined to keep Narnia in her possession and to end the reign of Aslan. All the memorable episodes from the story are represented in this exciting dramatization: the temptation of Edmund by the witch, the slaying of the evil wolf by Peter, the witnessing of Aslan's resurrection by Susan and Lucy, the crowing of the four new rulers of Narnia, and more. The supporting characters are also here: the unicorn, the centaur and other forest animals, along with Father Christmas, Mr. and Mrs. Beaver and Tumnus the Faun. This story of love, faith, courage and giving, with its triumph of good over evil, is a true celebration of life.
This play is a great way to spark conversations about family, and especially the bond siblings have with one another. Throughout the show, the Pevensies have to work through conflicts and ultimately learn to stick up for each other and love each other no matter what. This show is also a great way to bring up conversations about forgiveness. Edmund's family forgives him even after he brings danger to them through his lies and betrayal. They also realize that they contributed to Edmund's actions by treating him unkindly. Ultimately, Edmund is rescued and redeemed by Aslan, who takes Edmund's punishment for him. Just like Edmund, we all sometimes make mistakes and may experience consequences for them – but we are all still valuable and worthy of love.
We love this story because it focuses on how love is the deepest magic of all. Not only is it powerful enough to melt through ice and stone, but it is able to defeat evil itself. We also love this story because it takes us on an adventure and uses all parts of our imagination to depict the children's journey. By performing this story using minimal actors and sets, we show that you don't always need big special effects to tell a story. Storytellers can share human experiences through things as simple as a fur coat, a hat rack, or an umbrella. After watching this play, we hope your family will explore some creative storytelling on your own!
About the Milton Theatre
Official Website | Facebook | Twitter | Instagram
The historic Milton Theatre is a uniquely diverse venue where you will find the best local, regional, national, and international talent. Free municipal and on-street parking are available. Full bar and light food options available. This facility is fully accessible.