With environmental concerns on the rise, upcycling is a great way to repurpose our old junk and more people than ever are re-decorating their home decor by working on do-it-yourself projects and shopping at thrift stores to find unique pieces.
With hundreds of ideas available, finding an individual style for your home is important, so we searched to find 10 quirky ideas for your summer upcycling projects!
1. Teapots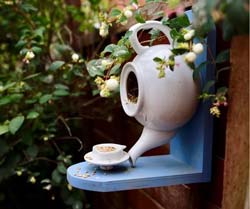 Teapots can be the most delicate and beautiful collections we own. And if you're like my grandmother who collects them from all over the world, as pretty as a teapot can be, you probably aren't using each one everyday. To upcycle your teapot collection, while many turn theirs into a flower pot or mini-fountain, consider creating a birdfeeder instead!
2. Trampoline
Do you have an old trampoline in your backyard that your kids, or grandkids, promised they'd use but now it rusts away? Upcycle that old trampoline into something new! Many people are turning their trampolines into garden arches, chicken coops, even a children's play area. The quirkiest idea we found is perfect for music lovers, or those who enjoy windchimes, Create a xylophone!
3. Wine Bottles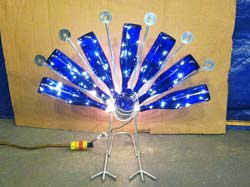 Wine bottles are a fan favorite to be upcycled! Everyone usually has a wine bottle or two in their home these days, and millennials like myself sure do love our wine. Some of the more common ideas, believe it or not, include creating a Christmas tree, light fixtures, wind chimes, and flower vases. One creative crafter even made a peacock!
4. Denim
One of the coolest materials to upcycle is denim! You can make just about anything out of this fabric and everyone has a pair of jeans in their house, so it's super easy to find. Common projects people create using denim is; purses, coasters, rugs, coin purse, bean bag, backpack and a tote. One of the more unique projects someone made was a wall organizer using the pockets of their old jeans!
5. Baby Wipe Containers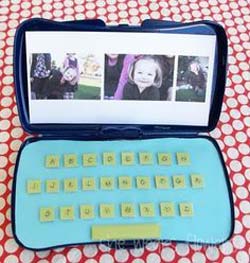 Baby wipe containers can be upcycled in a myriad of ways. You can create a first aid kit, a cute kid's traveling toybox, drawer organization and planter boxes. One of the niftiest ideas I found while exploring is creating a kid's laptop. It's a great way to engage a child in technology without involving actual screen time.
6. Wooden Pallets
Wood Pallets are used to remake everything from bed frames to planter boxes to patio furniture. One of the more interesting craft ideas was creating a toilet roll holder!
7. Tin Can
Another huge fan favorite in the upcycling community-ideas for tin cans! This is because tin cans are made from aluminum, a metal that's easy to mold, and the public's access to tin cans are plentiful. The most common projects with tin cans are cup holders, silverware holders, windchimes, flower vases, lamps, wine bottle holders…there are lots of organizational options! One creative baker decided to turn her tin cans into mini apple pie pans!
8. Shutters
Shutters are an interesting item for upcycling but they're used more often than you may realize. Common ideas for repurposing your shutters are a headboard for a bed frame, fencing in the yard, a new bench, a window box for your plants, and various types of tables. A cool idea from Jennifer Maker is using your old shutters as a paper organizer, especially for scrapbooking extraordinaires!
9. Cinder Blocks
While not the easiest material to find, cinder blocks can be a quirky way to spruce up your outdoor patio! Take this artist for instance, who turned her cinder blocks into stylish flower pots with stenciled designs.
10. Chandeliers
Chandeliers can be some of the most beautiful and magical light fixtures in our homes. Unfortunately, they can also be the hardest to take care of and eventually break or the metal begins to rust. There are plenty of ways to upcycle a vintage chandelier, many of which include creating various lamps or plant pots. Emily, from Two Purple Couches, turned her vintage chandelier into these amazing crystal necklaces!
Did you enjoy this list of quirky upcycling ideas? Follow us on Facebook to stay up to date on more great upcycling ideas!
Get started on all your upcycling projects by finding the perfect item on CTBIDS.com, where the bidding on every item starts at just $1!
---
Sources:
---