A Helpful Guide from AssistedLiving.org: Learn About the Range of Senior Living Options
As our loved ones age, so do their needs, and everyone's aging journey looks different. Some older adults are able to live out their retirement years playing golf and enjoying relatively few health problems. In contrast, others require a degree of assistance, dictated by health and safety concerns. The spectrum of senior housing options makes it so all older adults can find a senior care or housing level that works for them, no matter where their needs fall.
From aging in place with caregivers' help to assisted living, there are many options that enable seniors to remain as independent as possible while receiving care. Some seniors find it possible to stay in their family home with some outside help; others choose to join a community of seniors in an assisted living setting. For seniors who need a more secure environment or cannot care for themselves, memory care and skilled nursing facilities may be appropriate solutions.
The many choices for senior housing can be overwhelming. The following comprehensive senior housing guide will provide you with more information about your options in today's senior housing market, along with the information you need to make an educated decision about the right senior living option for your loved one.
Senior Living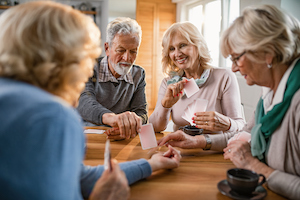 In this section, we explain the first of the three main players in residential senior living: independent living communities. Then in the next two parts, assisted living communities, and memory care communities. Though the different senior living types each offer a different level of support and care, all three offer community living and a maintenance-free lifestyle. Read on to learn more about these types of senior living and for whom they can be the right fit.
Independent Living
Independent living is a good option for older adults who are ready to transition to senior living but are still active and do not yet need any daily assistance. Seniors who choose independent living can look forward to maintenance-free living and the convenience of on-site amenities and social opportunities. As the first step in the spectrum of senior living, independent living communities do not offer any personal care services or medical care.
Independent Living Quick Facts
Independent Living Services and Amenities
Independent living communities are intended for seniors who are still relatively active and social, and thus a limited number of services are available. Independent living communities may provide housekeeping and linen services for individual units, interior maintenance of all common areas, and exterior maintenance. Transportation services may also be provided. Personal care services and assistance with any of the activities of daily living (ADLs) are not available in independent living. Anyone in need of those services is better suited for assisted living.
Independent living communities do typically offer quite a few amenities to support residents' social and active lifestyles. All independent living communities will have an on-site dining room serving prepared meals, and some may also have a cafe or coffee shop where residents can purchase items a la carte. Many have fitness facilities, including indoor or outdoor pools and group fitness classes. On-site, residents can partake in planned activities like art classes or attend scheduled events like visiting lecturers and concerts. The number and type of amenities available can vary significantly between different facilities.
Who Should Consider Independent Living
Independent living is designed for older adults who are ready for a maintenance-free lifestyle but who are still active and can live independently. Seniors who can take advantage of on-site amenities and activities will get the most benefit from independent living. It's also a good choice for older adults who would otherwise live alone and can benefit from the built-in socialization that comes with community living. Independent living communities do not offer any personal care service or medical care, so those who need regular assistance should consider a different type of senior living.
Independent Living Costs and How to Pay
Independent living costs can vary dramatically depending on location and the quality and quantity of services and amenities offered. According to Caring.com, independent living costs from $12,000 to $42,000 per year, putting the high-end communities at approximately $3,500 per month. Independent living communities tend to be about 30-50% less expensive per month than assisted living, as independent living does not provide the same array of services as assisted living.
Because independent living communities do not provide medical or custodial care, Medicare and Medicaid do not provide any coverage. However, those with a long-term care insurance policy may have coverage for some services received while in independent living, like prepared meals and transportation services.
Read our Comprehensive Guide to Independent Living to learn more.
How to Get Started in Your Search for Senior Housing
Understanding the wide range of senior care and senior living options is the first step to selecting the best fit for yourself or a loved one. If you want to learn more about senior care providers and senior living communities in your area, visit our Assisted Living Near Me page. There, you can enter your zip code to see the senior living communities in your area, with address information and photos.
---
To visit the next articles in this series:
Part 2: Assisted Living and Memory Care
Part 3: Senior Care and Aging in Place
---
This helpful guide was provided by the Assisted Living Team. Here's a message, directly from them on WHY they do what they do.
The AssistedLiving.org team exists to collaborate with like-minded individuals, to provide effective solutions to real challenges impacting seniors everyday. Want to get involved? Send us a message to find out how you can help. Questions? Let us know below and we will do our best to answer them.
Our work isn't just offering raw data and information – we offer deep insights and real solutions to problems seniors, caregivers and influencers face every day.

We believe that constant innovation based on scientific, intensive research can richly improve the quality of life for seniors for years to come. That's why we foster a culture of that constantly pushes us to pursue innovation, by collaborating with industry influencers, experts, and caregivers.

https://www.assistedliving.org/about-us/