A Helpful Guide from AssistedLiving.org: Learn About the Range of Senior Living Options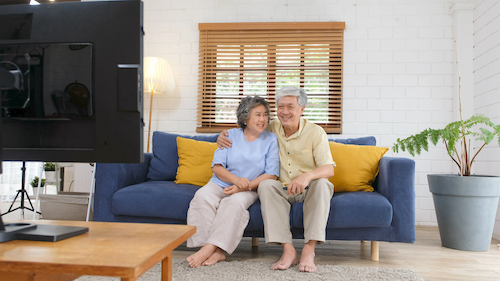 Some seniors prefer to age in place, or remain in their own home as they age rather than move to residential senior living. While some seniors can get by with minimal assistance from a family member or friend, others rely on professional senior care to ensure they remain safe and healthy while aging in place. Below, we explain four senior care options for adults who choose to age in place.
Home Care
In-home care encompasses a range of services and supports that one receives in the comfort of their own home. It may involve assistance with ADLs, transportation services, companionship, or a combination of the above. The services one receives can be customized for their needs, but in-home care does not include any medical care beyond basic first-aid.
Home Care Quick Facts
Home Care Services
Home care services include personal care services, such as assistance with ADLs, transportation, medication management, and housekeeping. Home care aides can also provide companion care services, which may involve playing games with the client, reading to them, accompanying the client on errands, and spending time with them to stave off loneliness. Ultimately, home care services can be customized for each individual client, but it's important to be clear with the aide about what is and is not expected of them.
Who Should Consider In-Home Care
In-home care is a good option for seniors who need assistance with their ADLs, but do not need help around-the-clock and want to remain in their own homes. The companion care aspect also makes it a good option for seniors who live alone and want a companion to accompany them on errands or simply spend time with them to keep them stimulated. It's important to note that home care aides are not nurses and cannot provide any medical care. Thus, in-home care is not a good fit for seniors who need regular medical care.
Home Care Costs and How to Pay
In-home care costs approximately $25 per hour in the United States. For 20 hours of care per week, that comes out to $2,037 per month. The overall cost of in-home will depend on how often the client needs care. For example, a senior who only needs 2 hours of care per day, or 14 per week, will face a cost of $1,426 per month. On the other hand, someone in need of 10 hours of care per day, or 70 per week, faces a much higher cost of $7,129 per month.
Because in-home care is considered custodial care, Medicare and Medicaid do not cover it. However, some states' HCBS waivers may cover in-home care, and seniors and their families may also use private options like long-term care insurance and reverse mortgages to help pay for in-home care. Additionally, Medicare may cover in-home care personal care services if they're delivered in tandem with home health care services.
Home Health Care
Home health care is a form of skilled nursing care delivered to a patient in their own home. Compared to in-home care aides, home health care aides must hold higher nursing credentials and have more medical training. This form of care is oftentimes short-term, following an injury or illness, or it may be used instead of placing a loved one in nursing home care.
Home Health Care Quick Facts
Home Health Care Services
Home health care services are often delivered by a trained nurse or nurse's assistant, so they can provide more skilled care than personal care aides. Home health care services include post-surgery care, physical and occupational therapy, medication administration (including injections), and more skilled nursing services. Since this type of care is one-on-one, the care plan can be tailored specifically to the individual's needs.
Who Should Consider Home Health Care
Home health care is typically ordered by a doctor and is often meant to resemble the care one would receive in an inpatient setting like a nursing home. Seniors who are recovering from an injury or serious illness and need monitoring, medication assistance, and/or therapy services are good candidates for home health care. Some families may also choose home health care for an elderly loved one facing ailing health who would otherwise need to transition to a nursing home.
Home Health Care Costs and How to Pay
Home health care costs an average of $26 per hour in the United States, which comes out to $2,080 per month for 20 hours of care per week. If the patient needs around-the-clock care, in-home health care becomes much more expensive. For 24 hours of care per day, seven days a week, the average monthly cost is $17,472, over twice the average nursing home cost.
There are financial assistance options available to help pay for in-home care, most notably Medicare. Medicare will cover in-home health care with no cost to the patient so long as a physician recommends home health care. However, it's important to note that Medicare only covers care if it's "intermittent" or part-time, and the program will not pay for around-the-clock in-home health care.
Respite Care
Respite care is a form of short-term care that provides temporary relief for primary caregivers, giving caregivers the freedom to travel, work outside of the home, visit friends, or simply take a break from their caregiving responsibilities. This type of care is very flexible, and can take place in the senior's home, in a residential care facility, or in an adult day care center. Depending on the caregiver's needs, they can use respite care for just a few hours one time, or for several weeks continually.
Respite care can be scaled to the senior's needs. It may include basic supervision and companionship, assistance with ADLs, transportation services, or even skilled nursing care. If medical services are required, it's crucial to work with a respite care provider who is also a certified nurse or physician.
The cost of respite care depends on several factors, including location, the type of care required, and how much care is needed. For example, basic daytime care involving supervision and companionship will cost about the same as adult day care. The cost of respite care involving skilled medical services will be much higher, similar to the cost of home health care. In cases where the senior needs medical care, Medicare may cover the cost of respite care. If personal care assistance is required, a Medicaid waiver program may help cover the cost.
You can learn more about this type of senior care by visiting our Complete Guide to Respite Care Services for Family Caregivers.
Adult Day Care
Adult day care offers short-term, daytime respite for caregivers of seniors. Unlike respite care, overnight care is not an option with adult day care. Adult day care centers are typically open during normal business hours, making this an appealing option for family caregivers who have a day job in addition to their caregiving.
Adult day care centers can assist seniors with some basic health needs like first-aid and medication reminders, but the caregivers cannot provide medical care. In general, adult day care is a good fit for seniors who need some supervision and minor assistance throughout the day, but who do not need around-the-clock care. As a group environment, adult day care gives seniors ample opportunities to socialize.
In the United States, adult day care costs an average of $1,603 per month. Because it is custodial care and not medical care, it is not covered by Medicare. However, Medicaid in some states does cover adult day care, typically under an HCBS waiver.
Other Senior Care & Senior Living Options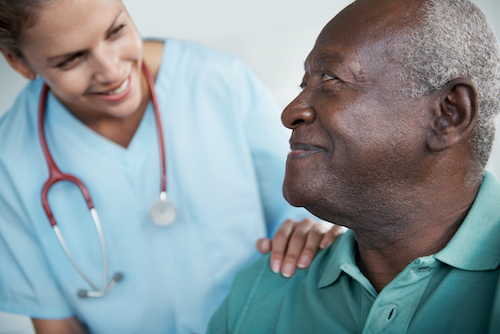 Continuing Care Retirement Communities
Continuing care retirement communities (CCRCs) provide a continuum of care, from independent living to skilled nursing and memory care. This enables seniors to remain in the same community as they age and their needs progress. It's an appealing option for older adults who are ready to transition to senior living but want to avoid having to move again in the future, or for couples who have different care needs but want to live in the same community.
CCRCs typically have several different buildings or areas that make up the community, with different care levels separated into different areas. One building may house independent living residents who are more active and social, while another may be for residents with memory impairment and have more staff on-site and enhanced safety and security. The amenities and services available will also be different for the different levels of care; for example, residents in the independent living area will not have access to aides to assist them with ADLs, but assisted living residents will. It's usually an easy transition to move from one area of care to another.
CCRC costs typically depend on the level of care one needs. Usually, one can expect the prices to be similar to other senior living facilities in the area (i.e, an assisted living resident in a CCRC will pay a similar monthly fee as a senior in a dedicated assisted living community). Some CCRCs may also have a "buy-in" or entrance fee in addition to the recurring monthly cost.
Skilled Nursing Facilities
Skilled nursing facilities, also called nursing homes, represent the highest level of care in the spectrum of senior care. These communities provide around-the-clock, skilled care from trained medical professionals, as well as short-term rehabilitation services like physical and occupational therapy. Often, someone transitions to a nursing home after being treated in a hospital for an illness or injury. Unlike other senior living options like ALFs and CCRCs, nursing homes focus entirely on resident health rather than lifestyle. Thus, these facilities tend to offer fewer amenities and activities than other types of senior living.
Because of the high-level medical care provided in nursing homes, costs are high. Genworth Financial reports that the average monthly cost for a shared room in a nursing home is $7,756 per month, while a private room costs an average of $8,821 per month. Medicare does cover a portion of nursing home costs, but only for short-term stays (the benefit runs out entirely after 100 days in a nursing home). Medicaid provides the most comprehensive nursing home benefit of the available insurance options, but exact coverage and eligibility vary between different states.
Visit our nursing homes guide to learn more about this type of senior care.
---
To visit the first articles in this series:
Part 2: Assisted Living and Memory Care
---
This helpful guide was provided by the Assisted Living Team. Here's a message, directly from them on WHY they do what they do.
The AssistedLiving.org team exists to collaborate with like-minded individuals, to provide effective solutions to real challenges impacting seniors everyday. Want to get involved? Send us a message to find out how you can help. Questions? Let us know below and we will do our best to answer them.
Our work isn't just offering raw data and information – we offer deep insights and real solutions to problems seniors, caregivers and influencers face every day.

We believe that constant innovation based on scientific, intensive research can richly improve the quality of life for seniors for years to come. That's why we foster a culture of that constantly pushes us to pursue innovation, by collaborating with industry influencers, experts, and caregivers.

https://www.assistedliving.org/about-us/